Smarter solutions for

schools
The Clean & Green School Programme is our answer to the multi-faceted challenge of keeping schools safe.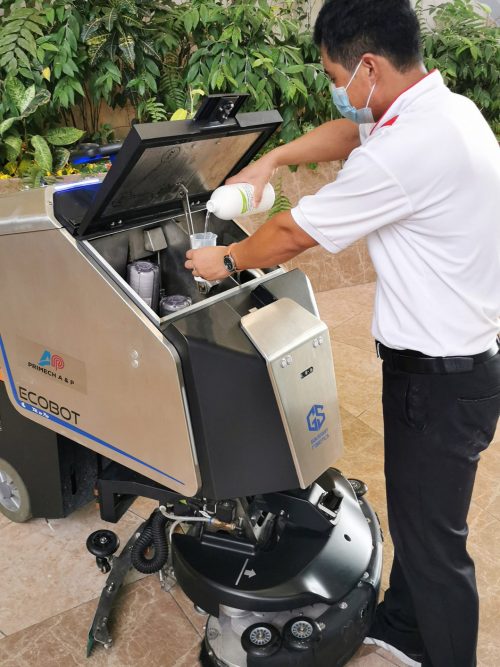 Our programme consists of several components, a key part of which involves a non-toxic disinfecting solution that's effective against bacteria and viruses, including COVID-19.
The disinfection process involves misting or wiping down surfaces with Chlorine Dioxide (CLO2). Made in-house at Primech A&P, the CLO2 solution is made by processing seawater with patented electrolysis technology.
This odourless disinfection solution has been tested for safety and effectiveness by international inspection agency SGS, and is safe for use in areas with children. Without the adverse effects of harsh disinfectants, we use CLO2 to provide better protection for students and staff in schools.
Stabilised
Aqueous Ozone

Generators
Amongst Primech A&P's arsenal of high-tech innovations is the Tersano Lotus PRO SAO Generator. A shining example of recent advancements in cleaning technology, this dispenser creates a potent cleaning solution with just one ingredient – ordinary tap water.
By passing cold tap water through the system, this generator is able to turn water into Stabilised Aqueous Ozone, or SAO. SAO is a highly effective all-in-one cleaning solution, capable of breaking down dirt and grease, and killing germs and viruses. Since it is non-toxic, students and children with allergies or skin sensitivities will be protected from the harsh effects of chemicals typically used in cleaning.
This solution is also environmentally friendly. Using SAO saves water in the long run, as it does not need to be rinsed off. The all-natural cleaning solution also eliminates the need for harsh chemicals that might pollute the environment.
For heavy-duty scrubbing, we employ the Neo 2 – an autonomous cleaning robot that comes with a disinfection sprayer to handle both cleaning and disinfection functions. The Neo 2 is heavily equipped with cutting-edge cleaning technology, including industrial-strength batteries that keep it running for up to six hours on one charge.
Many of our other cleaning appliances also come battery-operated. An example is the i-Mop, an easy-to-use cordless floor scrubber. With battery-operated cleaning devices, parents and teachers will not have to worry about cords snaking through the school, and posing a hazard to running children.
There are environmental benefits to battery-operated devices too. These machines tend to be quieter than their corded counterparts, reducing noise pollution and allowing students to focus on their work.
Our vacuums, floor buffers and furnishers also come with high-efficiency particulate air (HEPA) filters that capture microscopic materials, which might adversely affect students' health, or cause damage to sensitive equipment. These machines will help improve indoor air quality, thus creating a healthier space for students, faculty and support staff.
The facility services provider is also looking into the installation of a water catchment for schools. This allows rainwater to be recycled and used for cleaning techniques such as hydro-jetting.
Improved
Monitoring Systems
But the Clean & Green School Programme goes beyond cleaning innovations. To enable real-time cleaning updates, we use productivity app Swipetask's digital dashboard to link up support staff and school management. With the app, it will be easier for support staff to report activities, and for managers to monitor the cleanliness of their campus.
Sustainable

Cleaning Practices
While the adoption of state-of-the-art technology encourages sustainable cleaning, championing green practices can go a long way too. Outlined in our very own Green Plan are various initiatives that we will be extending to schools.
For example, we plan to adopt the use of peroxide cleaners or disinfectants over harsher chemicals. The solution is effective at removing dirt, and effectively performs tasks like whitening grout or cleaning carpets and mirrors. No residue will be left behind, which eliminates the need to rinse, thus saving water.
Improving cleaning efficiency can reduce wastage as well. Microfibre mops and cloths clean more effectively compared to cheap cloths typically used by cleaners. With more effective cleaning, we can save water, and promote a more sustainable cleaning process.
Environmental responsibility is a big part of our company's philosophy. One of the most effective ways to save the environment is to phase out the use of harmful chemicals, as these chemicals can have devastating consequences on the environment.
Environmentally-friendly cleaning solutions come marked with a Green label or FSC label. Both labels are used internationally to certify products that meet approved eco-standards. With the Clean & Green School Programme, we will be making an effort to use more green-labelled products, as we collaborate with schools.
In addition to the Clean & Green School Programme, we're also in the midst of converting our entire fleet of 70 vehicles to Electric Vans (EV). We hope to be able to support the installation of EV charging ports at schools very soon.
Our future is green
We believe that quality education needs to be more encompassing.
Be part of our Clean & Green School Programme today.
Let's go green together
For further enquires, please contact us at